KS lighting ranges
In addition to the KS Licht brand worldKS Licht brand world, we have been offering you print and online versions of catalogues with our selected KS lighting rangesKS lighting ranges since 1992.
The product selection of the KS lighting programmes is characterised by:
Full range of selected articles for all applications
State-of-the-art, innovative LED technology
Energy and cost-saving lighting solutions
Modern design
Good prices
Immediate availability of the goods
Below you will find our current KS luminaire ranges. In our interactive catalogues simply click on the article numbers to go directly to the product in our online shop. To do so, please select the button in the respective catalogue information:
Browse online in the interactive catalogue
The new lighting range Big White 2022
Big White 2022
Start the lighting season with the new BIG WHITE 2022.
In the course of our 30th company anniversary, we are pleased to present the "BIG WHITE 2022" lighting range. Here you will find new products, classics and top sellers with further developed LED technology.
The two brands KS and SLV have stood for top design luminaires at good prices for many decades. With the KS and SLV lighting ranges, we guarantee state-of-the-art lighting technology, high product quality, fast delivery and many free services.
KS OUTDOOR 2023
The latest outdoor lighting trends 2023
The KS lighting range OUTDOOR 2023 offers you a full programme of modern, innovative outdoor lighting for all outdoor applications on more than 259 pages. High-quality workmanship of the outdoor luminaires, great design and energy-saving lamp technologies are the basis of the KS outdoor luminaire programme.
Use the latest LED and energy-saving technology to reduce power consumption and be inspired by the many application photos.
The lighting range OUTDOOR 2023 is available exclusively online as a flip page version or as a PDF catalogue.
Big White novelties 2022
New products brochure
Discover the latest BIG WHITE innovations for every lighting solution around the most popular luminaire families.
This year you will again find impressions and an overview of the BIG WHITE innovations in a compact brochure.
Get an overview right now and convince yourself of the variety and quality of the luminaires presented!
KS Light Impressions 2023
Luminaires from Essen
The KS Light Impressions luminaire range is characterized in particular by a very extensive, ultra-modern and energy-saving LED product range with a wide variety of LED strips and profiles that leave nothing to be desired in terms of technology and design.
Let us surprise you.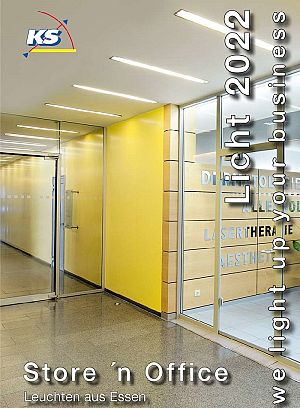 KS LICHT 2022 Store 'n Office - Luminaires from Essen
The right shop lighting makes all the difference! Good lighting and presentation of your goods is often the deciding factor in your customers' decision to buy.
Healthy, energy-saving, efficient and affordable office lighting is a challenge that you can master brilliantly with our specialists at KS Licht.
We have summarised our product range of shop and office lighting in the catalogue Store 'n Office.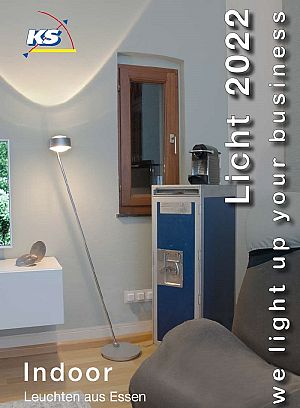 KS LICHT 2022 INDOOR - Luminaires from Essen
In our online catalogue KS INDOOR 2022 you will find a large selection of highlights of modern luminaires for the living room in different colours and shapes.
We present diverse luminaire families for every lighting solution in every room, new, interesting and coordinated colour schemes and high-quality, high-performance luminaires for every application.
Take a look inside. The INDOOR 2022 will surprise you.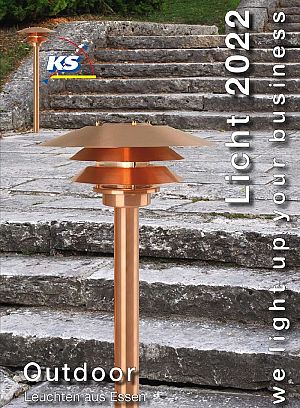 KS LICHT 2022 OUTDOOR - Luminaires from Essen
With this online catalogue, KS offers you selected highlights of modern outdoor lighting.
We present diverse luminaire families for every lighting solution in every part of your outdoor area and high-quality, high-performance luminaires for every application.
Are you a retailer or business customer (commercial/freelancer)?